Open RFQ:
RFQ-MCFCWCA-2022-01-Veg Management – Extended to 10/21/2022
Visit our Stormwater Website!

Farmland Maintenance Program
Sign-up Now for the Farmland Maintenance Program where the Landowner performs maintenance to the landside of the Levee:
Clear within 20 feet from landside levee toe of heavy vegetation, garbage and debris removal
Watch for surface erosion. Regrade/compact to prevent deepening of erosion/rutting
Spray herbicides by appropriately licensed applicators and follow product guidelines. No spraying on the waterside.
Mowing, light discing, drag (chain or box) on the crown and landside levees. No mowing on the waterside.
Farmland Maintenance Program Application
County Resources
County Wide Sandbag Locations:
How to Prepare for a Flood
Communication:
Don't Wait. Communicate. Make Your Emergency Plan Today. Get started here: www.ready.gov/plan
Register for MCAlert for emergency updates!
Build a Kit:
Flooding is a serious environmental reality that can cause significant damage to homes and the environment. You'll need to plan for two situations: remaining in your home after a disaster or evacuating to a safer location. Gather the supplies you may need in case a flood leaves you without power, water or gas. Supply list: www.ready.gov/kit
Checklist: Here is an idea of what to gather to ensure your family's basic comfort and well-being in case of an emergency evacuation.
Download a PDF checklist here!
• Cash – banks and ATMs may not be open for extended periods
• Water – at least one gallon per person, per day for three to seven days, plus water for pets
• Food – at least enough for three to seven days, including: non-perishable, packaged or canned food and juices, food for infants and the elderly, snack food, non-electric can opener, vitamins, paper plates, plastic utensils
• Radio – battery powered or hand-crank and NOAA weather radio with extra batteries and tone alert
• Blankets, pillows, etc.
• Clothing – seasonal, rain gear, sturdy shoes
• First aid kit – plus medicines, prescription drugs
• Special items – for babies and the elderly, including medicines, formula, bottles, and baby food
• Toiletries – hygiene items, moisture wipes, sanitizer
• Flashlight(s) and batteries
• Toys, books, games
• Pet care items – proper identification, immunization records, ample food and water, medicine, a carrier or cage, leash
Alerts & Warnings: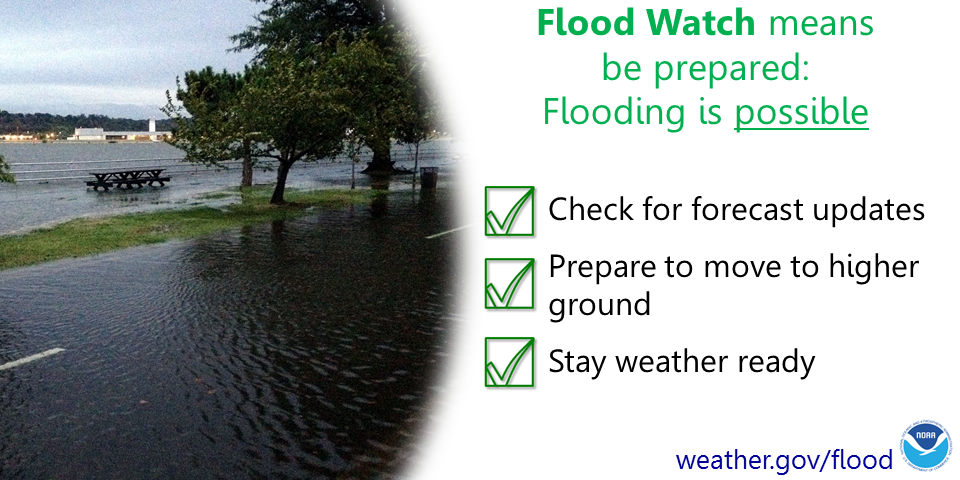 Flood Preparation Resources
DWR Flood Fight Techniques YouTube Playlist:
Levees 
Four Essential Levee Facts:
There are four essential levee facts that you should keep in mind (provided by "So, You Live Behind a Levee!" by American Society of Civil Engineers)
 

Flooding will happen

All rivers, streams, and lakes will flood eventually. This means that all levees will be called upon to combat floodwaters at some point. Don't think that flooding cannot happen to you.

No Levee is flood-proof

Levees reduce the risk of flooding, but no levee system can eliminate all flood risk. A levee is generally designed to control a certain amount of floodwater. If a larger flood occurs, flood waters will flow over the levee. Flooding also can damage levees, allowing floodwaters to flow through an opening or breach.

Risks associated with flooding vary

If you live behind a levee, you are responsible for knowing the threat you face from flooding. Don't assume that someone else is watching out for you. Take responsibility.

Actions taken now will save lives and property 

There are many steps you can take, like purchasing flood insurance, developing an evacuation plan,  flood-proofing your home, or reporting any problems that you see. The sooner you act, the better off you will be when the next flood occurs. Be prepared. 
Levees are not subject to consistent standards for design, construction, operations, and maintenance, and it is not easy to tell how a levee will perform in a flood by observation alone. While levees under the authority of the Army Corp of Engineers are regularly inspected and assessed for their level of protection, this may represent only a small fraction — an estimated 15% of the total levees in the United States.
Levees function as part of a system — what is happening upstream and downstream matters. A levee in a rural agricultural area may be designed to overtop in order to release floodwaters before it reaches levees protecting a larger population where flood damages may be greater. Even the unexpected breach or levee failure in one part of the system may reduce the pressure and save a levee in the system from failing in another section.
For More Information:
• "Corps Concepts" videos explain levees and levee terms
• So, You Live Behind a Levee!  covers issues such as flood size and risk, signs of trouble, ways to reduce risk, and how to prepare for and respond to emergencies
• View or download your Flood Hazard map from FEMA's Map Service Center
This information and reference suggestions are provided by the U.S. Army Corps of Engineers

FLOOD-MAR: Using Flood Water for Managed Aquifer Recharge to Support Sustainable Water Resources
Flood-MAR is an integrated and voluntary resource management strategy that uses flood water resulting from, or in anticipation of, rainfall or snowmelt for groundwater recharge on agricultural lands and working landscapes, including but not limited to refuges, floodplains, and flood bypasses.
The flood protection and groundwater management communities have traditionally worked independent of each other. In some respects, this has been done by design, such as flood protection agencies working to keep flood waters off property, while leaving groundwater management to local water agencies and landowners. With the passage and implementation of SGMA, in combination with climate-induced extreme events, the logic for these communities to partner and integrate is becoming clear and imperative. This partnership will help reduce the impacts of future swings between high- and low flow periods while meeting their communities' objectives. Other benefits are improving floodplain ecosystems, preserving working landscapes, and engaging California's agricultural community in needed solutions.
Flood-MAR epitomizes integrated water management.
The concept is designed to be multi-benefit—providing flood risk reduction, drought preparedness, aquifer replenishment, ecosystem enhancement, and other potential benefits. It is also a promising climate change adaptation strategy that takes an integrated approach to help address two of the most challenging elements of future climate changes: more flashy/intense flood flows, and longer/deeper droughts. In addition, agricultural lands and working landscapes are assets as they become effective and essential pathways to storage. In practice, projects will need to be carefully planned, operated, and designed to achieve these important benefits.
Flood-MAR can be implemented at multiple scales, from individual landowners diverting flood water with existing infrastructure, to using extensive detention/recharge areas and modernizing flood protection infrastructure/operations. Achieving Flood-MAR's potential and value for California will need integration into the broader water system. Integrating Flood-MAR with other regional recharge efforts, changing management of California's water system to better integrate surface water and groundwater, upgrading conveyance, storage and operations, and considering FloodMAR's opportunities as related to water transport and transfers are some of the system integration considerations.
Information provided by the California Department of Water Resources
Flood-MAR White Paper, June 2018
County Floodplain Management Regulations
Legislation drafted by the State of California, and enforced by Government Code Sections 65302, 65560, and 65800, confer upon local government units authority to adopt regulations designed to promote the public health, safety, and general welfare of its citizenry. The Madera County Floodplain Management Regulations can be found in Chapter 14.60 of the Madera County Code of Ordinances.
Finding of Fact
The flood hazard areas of the County of Madera are subject to periodic inundation which results in loss of life and property, health and safety hazards, disruption of commerce and governmental services, extraordinary public expenditures for flood protection and relief, and impairment of the tax base, all of which adversely affect the public health, safety, and general welfare.
These flood losses are caused by uses that are inadequately elevated, flood proofed, or protected from flood damage. The cumulative effect of obstruction in areas of special flood hazards which increase flood height and velocities also contribute to the flood loss.
Statement of Purpose
As established by ordinance and to promote the public health, safety, and general welfare, and to minimize public and private losses due to flood conditions in specific area by provisions designed to:
Protect human life and health
Minimize expenditure of public money for costly flood control projects
Minimize the need for rescue and relief efforts associated with flooding and generally undertaken at the expense of the general public
Minimize prolonged business interruptions
Minimize damage to public facilities and utilities such as water and gas mains; electric, telephone and sewer lines; and street and bridges located in areas of special flood hazard
Help maintain a stable tax base by providing for the sound and development of areas of special flood hazard so as to minimize future blighted areas caused by flood damage
Ensure that potential buyers are notified that the property is in an area of special flood hazard
Ensure that those who occupy the area of special flood hazard assume responsibility for their actions.
Methods of Reducing Flood Losses
In order to accomplish its purposes, this ordinance includes methods and provisions to:
Restrict or prohibit uses which are dangerous to health, safety, and property due to water or erosion hazards, or which result in damaging increases in erosion or flood height or velocities
Require that uses vulnerable to floods, including facilities which serve such uses, be protected against flood damage at the time of initial construction
Control the alteration of natural floodplains, streams channels, and natural protective barriers, which help accommodate or channel flood waters
Control filling, grading dredging, and maintenance of levees and other development which may increase flood damage
Prevent or regulate the construction of flood barriers which will unnaturally divert flood waters or which may increase flood hazards in other areas.
The County of Madera has adopted the following water related Studies and Plans:
Master Drainage Plan: Gill & Pulver Study – Master Drainage Plan for Madera Ranchos, Bonadelle Ranchos and Root Creek
Integrated Regional Water Management Plan
Madera Regional Groundwater Management Plan
Stormwater Resource Plan 
Statutory Authorization
The County of Madera receives calls on a daily basis from property owners who wish to find out if their property is located within a flood zone. Flood zone maps are continually being updated and changed by FEMA. Persons wishing information on a parcel will need to call our office, at (559) 662-8015.
If you are looking for Flood Zone Elevation Certificate or information you may go to the FEMA website at: http://www.fema.gov/ for information and instruction on flood zones and forms.
FEMA Information For Claims Adjusters
Drainage Design Standards– Rainfall Data
Elevation Certificate and Instructions
Homeowners and Renters
Insurance Professionals and Lenders
MT-1 Application Forms and Instructions (Letter of Map Amendment)
MT-2 Application Forms and Instructions (Letter of Map Revision)
Emergency Action Plan
MCFCWCA EAP Chapters 1-7
City Public Safety Maps
United Flood Fight Command Maps
Madera Flood Contingency Maps