Within the County GSAs, monitoring of evapotranspiration (ET) and evapotranspiration of applied water (ETAW) will be done with satellite technology provided by Irriwatch. Quality assurance and quality control would be performed by both Irriwatch, Davids Engineering  and by Madera County staff.
Three training sessions are budgeted to review IrriWatch functionality and applications.  The first session will inform growers how Evapotranspiration (ET) is calculated within IrriWatch using the SEBAL model, and how Evapotranspiration of applied water (ETaw) is calculated within IrriWatch using root zone water budget modeling. The second and third training sessions will be conducted after IrriWatch becomes operational and will focus on the use of IrriWatch. Topics for the three training are summarized below followed by brief descriptions of SEBAL and IrriWatch.
SEBAL (Surface Energy Balance Algorithm for Land) was developed by Dr. Wim Bastiaanssen of The Netherlands. SEBAL uses spectral radiances recorded by satellite-based sensors, plus ordinary meteorological data, to solve the energy balance at the Earth's surface.  SEBAL computes actual evapotranspiration (ETa) for each pixel in a multispectral satellite image by applying radiative, aerodynamic and energy balance physics in 25 computational steps incorporated into 19 models.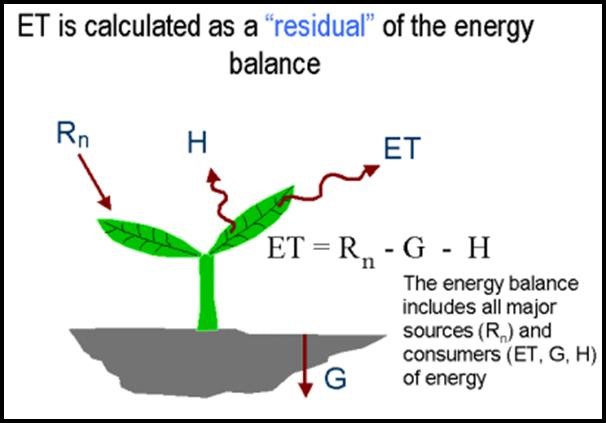 Conceptual Schematic of the Surface Energy Balance
 The Surface Energy Balance Algorithm for Land (SEBAL) is a remote sensing algorithm that converts raw satellite data into radiation, heat and water vapor transfer fluxes to calculate the energy balance at the land surface. The actual evapotranspiration (ET) is the desired output, and it is determined from the radiation and heat fluxes. The radiation component considers all forms of incoming and reflected solar radiation to determine net radiation (net energy in). The heat flux component describes the heating rate of soil and air during the daytime. All energy that is not used for heating the soil and air is used to evaporate water, or ET. So, the net energy is dissipated in either heating the soil and air or evaporating water, and this dissipation depends on the soil moisture conditions. Wet land surfaces have a high ET and a low heat flux. Dry land surfaces have a low ET and a high heat flux. Satellite measurements of land surface temperature are fundamental for computing this energy balance.
Training Date:  November 6, 2020     10 to 11:30 am       SEBAL and root zone water budget training     Presentation
The training will describe how SEBAL works, provide examples of temperature maps, and show also how other (non-ET) factors affect the heat map. The link to other remote sensing crop parameters will also be explained. The root zone water budget used to determine ET from precipitation and ET from applied water will be explained. Biomass and its relationship to crop production will  be explained with real world examples.
IrriWatch is a daily irrigation scheduling and crop production information service. It is based on the SEBAL model outputs and other data and the data is disseminated through a portal, an App or an API. The main objective is to inform growers about the irrigation status of fields and recommend irrigation activities of the day. Growers with weekly schedules can check the need for corrective actions. For instance, the urgency of certain fields to receive water immediately or whether desirable stress levels are still ok. Sometimes mild stress is desirable, but the stress should not adversely impact the crop production. Besides irrigation advice for the day, also the status of the fields from yesterday are portrayed. This helps in understanding whether soil moisture and soil water potential in the root zone are still in the pre-defined range. If soil moisture signatures show a low and irregular value, then the grower sees that the current irrigation schedule is not appropriate. If soil moisture signatures are high, then water could be conserved. IrriWatch shows the accumulated crop production and ET values, and also applied water and Nitrogen status. This info together with the allocation helps growers making decisions on  the timing and amounts of irrigation. The data portal is suitable for planning and monitoring. The App is developed mainly to check todays situation. The API is designed for growers having own data platforms so, that they have automated access to the pixel data.
Training Date: January 20, 2021        10 to 11:30 am       IrriWatch Set up and use training
This training will explain the data portal, including how to register, log in, define parcels, assemble farm units and set allocations.  How to read and interpret available data will be explained. How IrriWatch determines the irrigation status of a field will be described. How to view ETaw versus allocation will also be described.  The IrriWatch App will also be demonstrated. The training will include a few case studies where irrigation practices will be discussed in relation to IrriWatch data.
Training Date: Mid to late summer 2021        10 to 11:30 am         IrriWatch follow up training 2
This training will focus more on feedback, queries, comparison with field measurements.
Resources:
Future of Agriculture Podcast: Irriwatch
YouTube: How Thermal Remote Sensing Helps Farmers to Optimize Their Irrigation/ Irriwater
SEBAL Training with Madera County