Support for voluntarily ag land transitions that save water and create co-benefits

---
Public Workshops
Input from growers and residents is important to create a localized plan for the Multibenefit Land Repurposing Program (MLRP) in Madera County. Please review past workshop resources to learn about the program and how to get involved.
Wednesday, November 15, 2023, 6:00 p.m. to 7:30 p.m., Frank Bergon Senior Center (A Family Friendly Workshop)
Thursday, November 16, 2023, 7:00 a.m. to 8:30 a.m., Madera County Farm Bureau
Tuesday, November 21, 2023, 4:00 p.m. to 5:30 p.m. via Zoom
---
Workshop Flyers 
---
Workshop Presentations
---
Public Input Survey
MLRP Madera is seeking public input about the types of ag land repurposing projects that make sense and are desirable for our region. This input is important to help define the types of projects that will be eligible for MLRP funding as well as the co-benefits that will be created for the community. If you are a grower or resident in Madera County, please contribute your perspective by completing a short survey.
---
MLRP Madera Contact Information:
Email mlrp@maderacounty.com with any questions or needs pertaining to the workshops.
---
MLRP Madera FAQs
 What is MLRP?
MLRP is a California Department of Conservation grant program funding local entities in regions needing to improve groundwater sustainability. Madera County is one of eight grantees across the state developing and implementing a local MLRP program.
The purpose of MLRP is to support growers to envision and implement ag land repurposing projects that support groundwater sustainability while also producing additional benefits for rural communities and ecosystems. The program is voluntary yet recognizes that SGMA-related impacts have and will require many growers in Madera County to make land use changes. MLRP offers the opportunity for ag landowners to access state and other funding sources to proactively transition their land (or portion of their land) to a new productive use. For communities, MLRP aims to encourage and reward land repurposing projects that create benefits to community health, economic well-being, water supply, habitat, renewable energy and more. Each regional MLRP program is creating a plan design that defines the specific types of land repurposing projects and community benefits that best align with local needs and considerations.
Who are the partners and stakeholders involved in the Madera County MLRP program?
In Madera County, there are several stakeholder partners working together to develop and implement the "MLRP Madera" program in our region. The primary organizations that are part of the MLRP Madera partnership and support network include Madera County, Madera County Farm Bureau, Madera/Chowchilla Resource Conservation District, Madera Ag Water Association (MAWA), California Farmland Trust and Leadership Council for Justice and Accountability. MLRP Madera is also part of the statewide network of grantees that are supported by Self-Help Enterprises, Environmental Defense Fund, and Environmental Incentives.
What is the process for developing the MLRP Madera plan and program?  
Between fall 2023 and spring 2024, MLRP Madera partners are developing the plan and program for MLRP in Madera County. An important part of this effort is getting input from growers, residents and community stakeholders through workshops and other outreach activities. The input process will help inform the criteria for land repurposing project types as well as the co-benefits that are desired by the community.
Once the MLRP Madera plan development process is complete, an application process and timeframe will be announced. It is expected that the MLRP Madera solicitation announcement will be made in early summer 2024 and the application window will open shortly after.
What are the eligibility requirements for MLRP funding?
Eligible applicants for MLRP funding are individuals or entities that own or have defined responsibility for agricultural land in Madera County. The Department of Conservation also requires MLRP projects to be consistent with the Groundwater Sustainability Plan (GSP) for the area and have a duration of at least 10 years. Additional eligibility requirements may apply, which will be specified in the MLRP Madera plan.
Are there other land repurposing programs in addition to MLRP in Madera County? Currently, MLRP is the only active Madera County land repurposing program. See the table below for information on other programs that are on hold or closed, and how they differ from MLRP.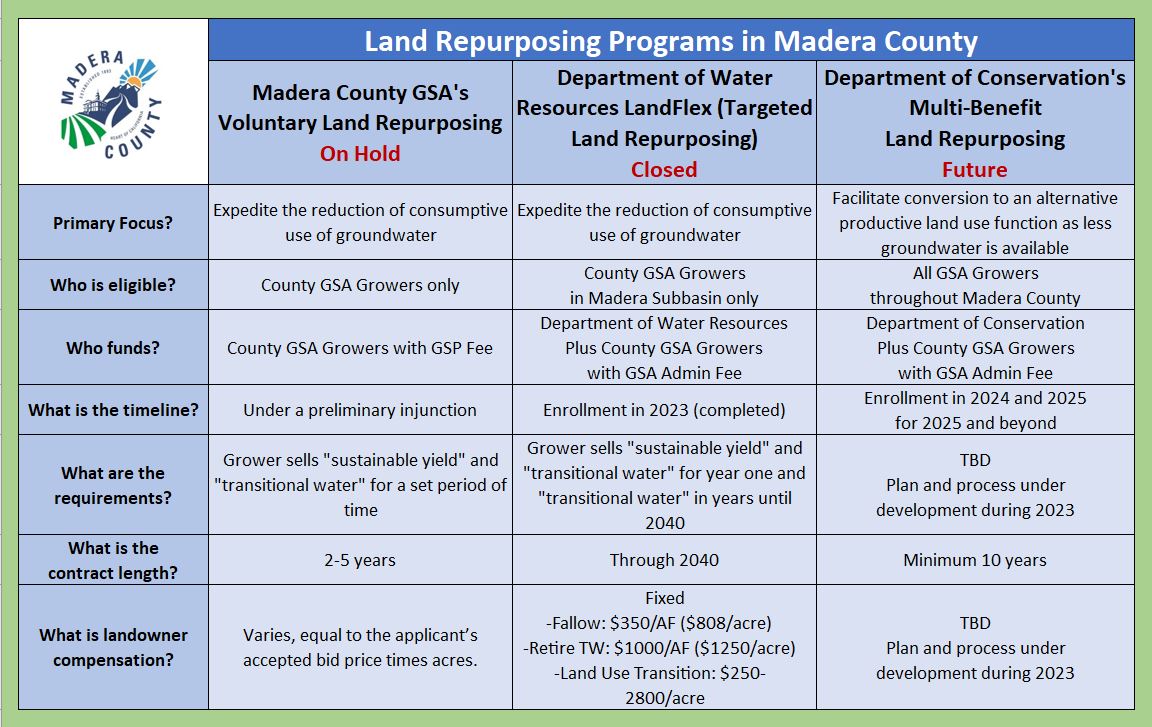 Click on image to enlarge