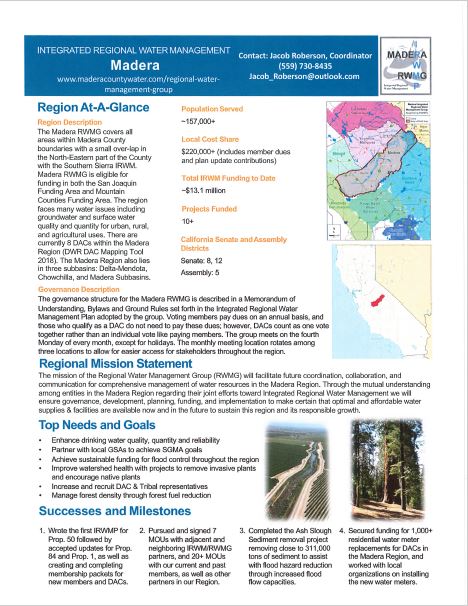 What is an Integrated Regional Water Management Plan?
An Integrated Regional Water Management Plan (IRWM Plan) is a voluntary and comprehensive non-regulatory planning document prepared on a region-wide scale that identifies broadly-supported priority water resources projects and programs with multiple benefits. The process of creating an IRWM Plan is locally-driven and includes input from many diverse stakeholders. An IRWM Plan investigates a broad spectrum of water resources issues including water supply, flood management, water quality, environmental restoration, recreation, land use, environmental justice, stakeholder involvement, and far reaching community and statewide interests. A key difference in IRWM Plans (as compared to other planning documents) is that IRWM Plans integrate multiple water management strategies to solve multiple priority challenges. IRWM Plans can help attract state and other funding to support regional projects. Millions of dollars have been allocated for IRWM Planning by the state through propositions 50 and 84. Grants are awarded through the California Department of Water Resources (DWR).
Disadvantage Community Membership Application
2021 Voting Members
Chowchilla Water District
City of Chowchilla
City of Madera
Gravelly Ford Water District
Madera County
Madera Irrigation District
Madera Water District
MAWA – Madera Ag Water Association
Root Creek Water District
SEMCU – South-East Madera County United
Triangle T Water District
Tribal and Disadvantaged Community Members
North Fork Rancheria of Mono Indians

Self Help Enterprises
Fairmead Community and Friends
Madera Valley Water Company
Indian Lakes
Mission Statement
The mission of the Regional Water Management Group (RWMG) will facilitate future coordination, collaboration, and communication for comprehensive management of water resources in the Madera Region. Through the mutual understanding among entities in the Madera Region regarding their joint efforts toward Integrated Regional Water Management we will ensure governance, development, planning, funding, and implementation to make certain that optimal and affordable water supplies & facilities are available now and in the future to sustain this region and its responsible growth.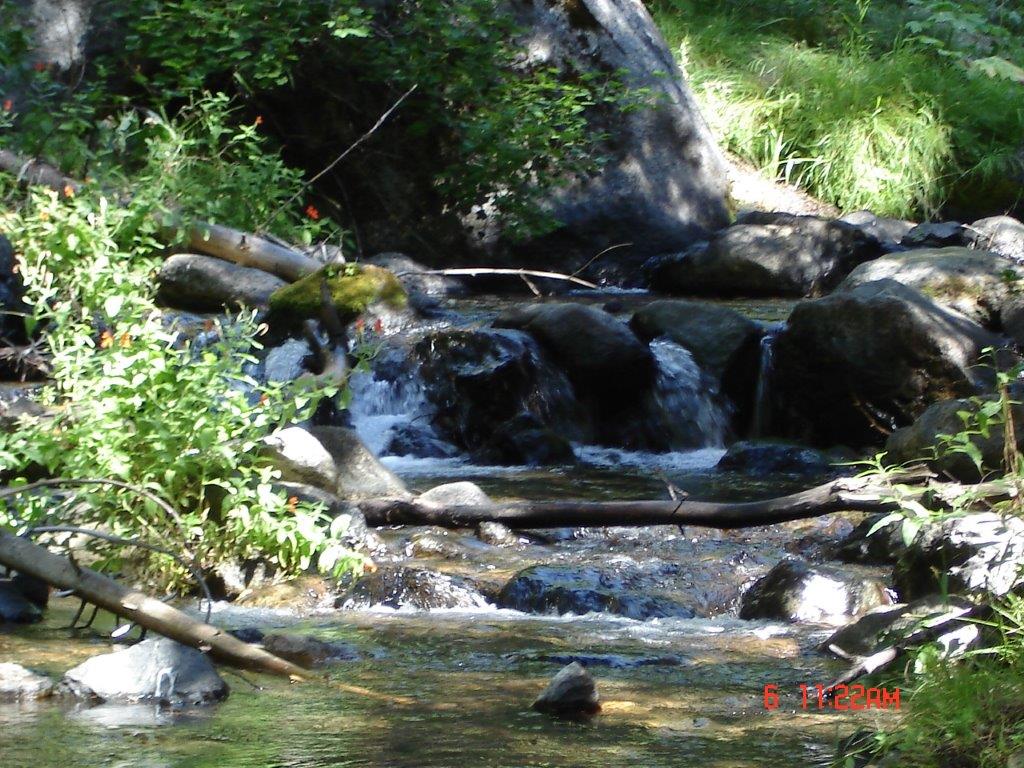 Interested in Joining? Here is the New Member Packet
Timeline of Accomplishments
In 2006, the County of Madera began the process of developing on IRWMP for managing and protecting water resources.
IRWM Plan was completed for the Madera Region under Prop 50 on April 14, 2008. This is a complete plan under the Prop 50 Standards that includes both the foothill and the valley areas, creating many new partnerships and involvement.
On November 24, 2009, the Madera County Water Advisory Commission created the Formation Committee to create the Regional Water Management Group.
On January 2, 2010 the RWMG for the Madera Region was officially formed.
2011/2012 – Round 1 Implementation Grant was granted for the full amount of the award – $9,413,947.00
Project #1 – Ash Slough Arundo and Sediment Removal
Project #2 – Cottonwood Creek, Dry Creek, & Berenda Creek – Arundo and Sediment Removal
Project #3 – Root Creek Recharge Project
Project #4 – Fuel Reduction for Forest Health & Fire Safety in the Sierra National Forest (The first Forest Management Project funded as part of an IRWM which recognizes Watershed Health as a whole.)
2012/2013 – Received recommendation for full funding, $271,438.00, for the Round 2 Planning Grant to update the IRWM Plan to Proposition 84 standards
June 25, 2014 Received approval of Formal Amendment 2 to relocate Project #2 from Cottonwood Creek, Dry Creek, & Berenda Creek to Berenda Slough and an extension of Ash Slough.
2018 and 2019 – Updated IRWMP
January 2019- Received Prop 1 funding for Disadvantaged Community outreach $300,400 for the valley and $186,000 for the foothills.
June 2020- Awarded Proposition 1 Funds for four projects. $551,450.00 for an Indian Lakes project in the Foothills and $1,689,635.00 for the communities for Parkwood and Parksdale and the City of Madera.
Do you want to add your project to the Project List in the IRWM Plan?
Fill out the Project Form and take it to the RWMG meeting and present your project.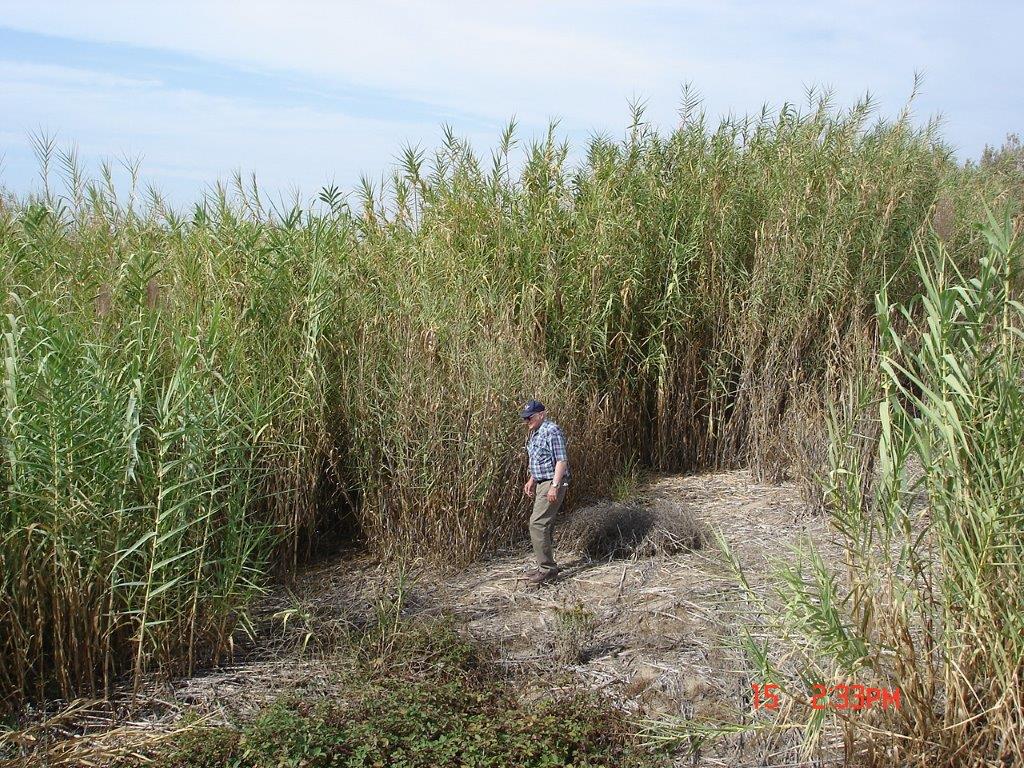 Future Milestones
1. Formalize the Governance structure regarding the roles and responsibilities of the RWMG's Project Manager/Coordinator, as well as stakeholders and voting members.
2. Conduct successful outreach to Disadvantaged Communities, resulting in the addition of Disadvantaged Communities (DACs) stakeholders and/or members to the RWMG, and inclusion of DAC water quality and wastewater issues in the Plan's project list
The Roundtable of Regions is a consortium of representatives from Integrated Regional Water Management (IRWM) Regions around the state. Each IRWM is unique – but they all share many common interests. The Roundtable provides a forum for interested parties working on IRWM to discuss those interests and to share their successes and challenges. It also provides a forum for collaborating and providing input to the State on the IRWM Program. The Roundtable welcomes all groups who are actively working on developing and/or implementing IRWM Plans.
Meetings
Meetings are on the 4th Monday of every month at 1:30pm. Until further notice, meetings will be held on Zoom. Please contact Jacob Roberson for more information. jacob_roberson@outlook.com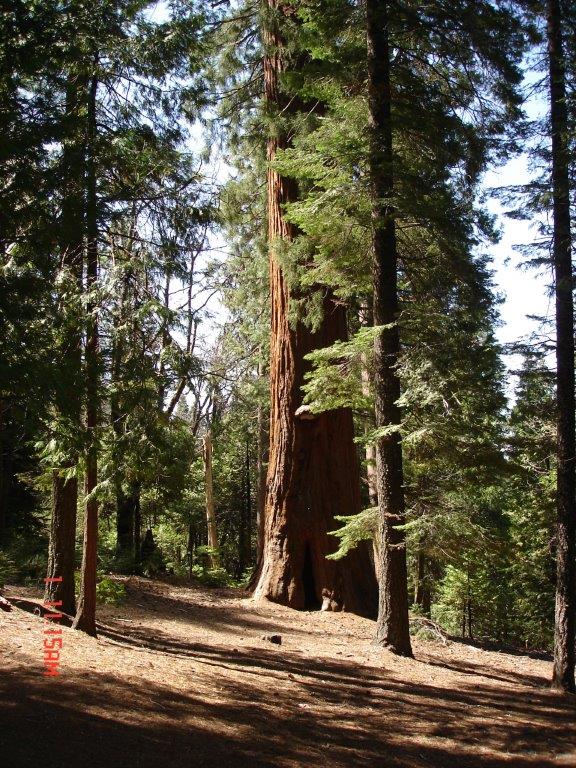 Meeting Agendas and Minutes
January Meeting Agenda and Minutes
February Meeting Agenda and Minutes
March Meeting Agenda and Minutes
April Meeting Agenda and Minutes
May Meeting Agenda and Minutes
June Meeting Agenda and Minutes
July Meeting Agenda and Minutes
August Meeting Agenda and Minutes
September Meeting Agenda and Minutes
October Meeting Agenda and Minutes
November Meeting Agenda and Minutes
December Meeting Agenda and Minutes
January 2019 Meeting Agenda and Minutes
February 2019 Meeting Agenda and Minutes
March 2019 Meeting Agenda and Minutes
April 2019 Meeting Agenda and Minutes
May 2019 Meeting Agenda and Minutes
June 2019 Meeting Agenda and Minutes
July 2019 Meeting Agenda and Minutes
August 2019 Meeting Agenda and Minutes
September 2019 Meeting Agenda and Minutes
October 2019 Meeting Agenda and Minutes
November 2019 Meeting Agenda and Minutes
January 2020 Meeting Agenda and Minutes
February 2020 Meeting Agenda and Minutes
March 2020 Meeting Agenda and Minutes
March 2020 Special Meeting Agenda
April 2020 Special Meeting Agenda
May 2020 Meeting Agenda and Minutes
June 2020 Meeting Agenda and Minutes
July 2020 Meeting Agenda and Minutes
August 2020 Meeting Agenda and Minutes
September 2020 Meeting Agenda and Minutes
October 2020 Meeting Agenda and Minutes
November 2020 Meeting Agenda and Minutes
January 2021 Meeting Agenda and Minutes
February 2021 Meeting Agenda and Minutes
March 2021 Meeting Agenda and Minutes
Presentation – Domestic Well Inventory  (draft)
April 2021 Meeting Agenda and Minutes
May 2021 Meeting Agenda and Minutes
June 2021 Meeting Agenda and Minutes
July 2021 Meeting Agenda and Minutes
August 2021 Meeting Agenda and Minutes
September 2021 Meeting Agenda, Minutes, and Presentation
October 2021 Meeting Agenda and Minutes
November 2021 Meeting Agenda and Minutes
January 2022 Meeting Agenda and Minutes
February 2022 Meeting Agenda and Minutes
March 2022 Meeting Agenda and Minutes
April 2022 Meeting Agenda and Minutes
May 2022 Meeting Agenda and Minutes
June 2022 Meeting Agenda and Minutes
July 2022 Meeting Agenda and Minutes
August 2022 Meeting Agenda and Minutes
September 2022 Meeting Agenda and Minutes
October 2022 Meeting Agenda and Minutes
November 2022 Meeting Agenda and Minutes

Integrated Regional Water Management (IRWM) Plan, 2014 Pro 84 Update, & 2019 Prop 1 Update